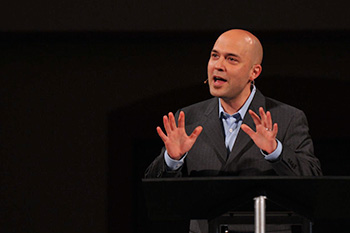 I am so thankful for churches like Covenant Life Church who are faithfully teaching the gospel, not only as the way to be saved, but also as the foundation for living in the world here and now. They do not only teach by words, but by the actions of the leaders, what it means to continually be challenged and changed by the Spirit of God as he works through the word of God to bring the gospel to bear on our lives in this fallen world.
At a recent members' meeting, Josh Harris, the lead pastor, shared some areas with the church where God has been calling the leaders to repentance and to change — and to lead in the changing of the church culture. Josh walks a fine line of appreciating God's grace and faithfulness to them through their history, but also acknowledging where patterns have emerged that have become counter-productive to gospel-living and gospel-fellowship.
You can read the whole statement he made to the church here.
In particular, I found this section compelling, because it puts into words what I've seen in so many churches (not just Covenant Life), but haven't been able to express nearly so well. Here is their confession, with an explanation of how they're striving to 'reduce to practice' without 'reducing to one practice.'
———
Reducing To One Practice
For several years now C.J. Mahaney, who was one of the founding pastors of Covenant Life and now serves as president of Sovereign Grace Ministries, has been leading the pastors of Sovereign Grace to recognize the difference between principle and practice. A principle is a clear teaching or imperative from God's Word. A practice is a specific action or decision that seeks to apply a principle.
So for example, Scripture clearly teaches that husbands should love and cherish their wives (Eph. 5).
But how two Christian husbands put this same principle into practice can differ. One Christian can apply this principle by taking his wife out to dinner every Wednesday. But another husband might find time to communicate with and express affection for his wife with a walk around the neighborhood each night. They're both honoring a biblical principle, but their practice is different.
One of the historic strengths of Covenant Life has been in putting principles into practice. We want to be, as James 1:22 says, not just hearers of the Word, but doers of the Word. May this never change! May we be a church community that takes God's Word seriously and applies it to our lives.
Having said this, a strength in application can also be a weakness if we're not careful. Here's what I mean: if we elevate a single practice and invest it with the authority of biblical principle, we can place a rule or burden on people that isn't actually commanded in God's Word. For example, it wouldn't be helpful if we said that the Bible teaches that couples need to go on a date every Wednesday. It's a fine idea, but it's not a scriptural command.
C.J. shared something with me recently that turned the light on for me. He quoted J.I. Packer who wrote that the Puritans were known for their ability to "reduce to practice"—in other words, they took biblical principles and reduced them to specific choices and decisions in their lives. This is a good thing. God's Word, handled rightly, leads to humble and skillful application.
But C.J. pointed out that there can be a problem when we "reduce to only one practice"—and give the impression that there is only one godly way to honor a given principle.
Here are a few categories that members of the church have shared with us where they felt a single practice was over-emphasized in an unhelpful way:
Dating and courtship
Going away to college
Girls and college
Women's Bible studies
Women working outside the home
In each of these areas Christians can have differing practices and yet honor biblical principles. But in various ways I think we "reduced to only one practice," and at times that brought the unintended consequence of people feeling the pressure that there was only one truly godly way to do things.
So for example, to honor biblical principles of purity, you had to practice courtship according to ideas in my books. Or to love the local church you shouldn't go away to college but stay local. Or to value the leadership and teaching of the pastors, you shouldn't attend outside Bible studies. Or to practice biblical femininity, you shouldn't pursue higher education or work outside the home.
…
All this is a disservice to you for several reasons. First, because it doesn't teach you to grapple with God's Word for yourself. We want you to study God's Word yourself, see the biblical principles clearly, and put them into practice based on a clear conviction, not the conviction of someone else.
This is also a problem because it can lead to a legalistic environment where some people are more concerned with what other people practice than with the sufficiency of God's Word and the power of the Holy Spirit.
Reducing to only one practice has also resulted in people feeling judged by others for not having the same practice.
One of the realizations we're coming to as pastors is that we can do a better job in teaching the principle of Christian liberty taught in passages like Romans 14 and 1 Cor. 8-9. The principle of Christian liberty is that as followers of Christ we have freedom to make decisions about matters that are not revealed or mandated in Scripture without fear of sinning against God.
We can do a better job of teaching that one person's or one pastor's practice of wisdom is not God's law and shouldn't bind another person's conscience.
We all need to wrestle with questions of wisdom. We all need to humbly seek to practice biblical principles and then discuss our differences with each other charitably and humbly. But we cannot as a church make everyone adopt the same practice. No matter how wise we think our practice might be, we can't invest it with the authority of God's Word.
We want to do a better job of teaching the principles of God's Word and encouraging you as individuals and families to apply the Word as you see fit before the Lord. We still want to encourage each other to put God's truth into practice. But we also want to emphasize the freedom we have as individuals and families to have different practices of the very same principle. We want to cultivate an even greater culture of grace even as we strive for holiness.
———
Amen! And may God make Grace Fellowship Church such a church, which seeks to be practical, but not legalistic, led by leaders who are humble enough to admit their mistakes and strive to do better for the sake of the kingdom!